The Revenue Department is a departmental department. Under the Ministry of Finance Responsible for tax collection under the Revenue Code And of course, when the Revenue Department asked to come in to inspect or call Many of you may be worried. Don't know how to prepare or handle In truth, I must say that There are many reasons why the Revenue Department has called. Sometimes may call in to clarify various issues only. In this article, we will introduce how to handle when called by the Revenue Department for everyone to read and use it when the situation arrives.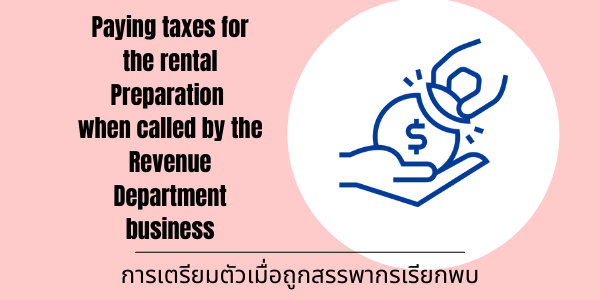 Preparation when called by the Revenue Department

1. Do not avoid
Many people, when they realize that they have been called by the Revenue Department, may be shocked to the point of being helpless. Afraid that he might want to avoid seeing the revenue department But acting until And showing that intention is better for us than to escape Therefore, we should meet the Revenue Department on the date and time specified by the letter.

2. Check the letter
If a letter is sent to meet the Revenue Department Don't be too shocked or anxious. Please check the document carefully before being called what is found. How serious is it? Is it wrong, or is it just calling to meet to clarify issues? In order to prepare according to the points

3. Prepare documents
When he was aware of the called issue Let us prepare the documents to meet the revenue department. And prepare the answer to be ready for the issues clarified in the letter

4. Consult an expert
Signing any document Should consult a specialist before signing every time Whether or not we are guilty Because if we have already signed, that means we accept that May cause negative effects in later periods

5. Request to reduce the penalty
In the event that we have the wrongdoing as the Revenue Department has called, We may make a letter submitting a request to reduce the penalty. Which may reason that We do not intend to evade taxes. There may be incorrect calculations or an insufficient understanding of the law.